For our latest edition of Perspectives, we sat down with Keegan Fong, who spent over a decade in the marketing world specializing in skate and fashion and has now pivoted into the restaurant industry with Woon Kitchen. From applying his marketing experience to the perfect restaurant soundtrack, Keegan takes us through his life as a restaurant owner and the key components that come together to bring his mother's dishes to the LA food scene.

Skate and fashion was the focus of your career for over a decade and now you've pivoted into food with a full blown restaurant under your watch in Los Angeles. What was the driving force behind starting Woon?

Growing up, I always had a desire to start something on my own. I always thought it would be some type of apparel or fashion brand with some physical and experiential aspect to it. The thought of having a brand where we could host events involving food, especially my mom's food, was always intriguing to me. However, after working in the industry for a number of years, I became quite jaded. I had great learning experiences which set me up for the ability to start something on my own. However, towards the end of my years working in the skate/surf/fashion industry, I found myself wanting to tell honest and genuine stories. Growing up around my mother's food and its importance in creating memories and building community really became the forefront of what stories I could tell. It meant that I didn't have to create stories to sell a product anymore. I could just show everyone what I grew up with and that's what Woon is today. A complete reflection of my past and present life as an Asian American.

You've got a fairly extensive product line that goes beyond food. Does Mama Fong get to play Creative Director at all? Tell us about Woonware and your lifestyle collaborations.

Haha. My mom doesn't have too much say on all the Woonware but a lot of the Homestyle Goods we sell (packaged goods and pantry products) are based off of her pantry items at home. For Woonware specifically, that's honestly just a mix of everything that I'm currently interested in. Luckily, I have an amazing friend and artist, Ty Williams, who's essentially our Art Director and provides me with 90% of our artwork. A lot of it naturally translates into apparel and accessories. Woonware has been really fun because it gives us the opportunity to collaborate with other amazing creatives, mostly AAPI as well. For instance, we partnered with Cindy from Special Interest Goods on custom candles. My mom created mini dumplings that Cindy used as molds and we also created a Noodle Ball candle which was our Woon noodles squished into a ball. Most recently, we collaborated with Vietnamese artist, Kris Chau on a Chinese punk inspired t-shirt which has sold out a few times.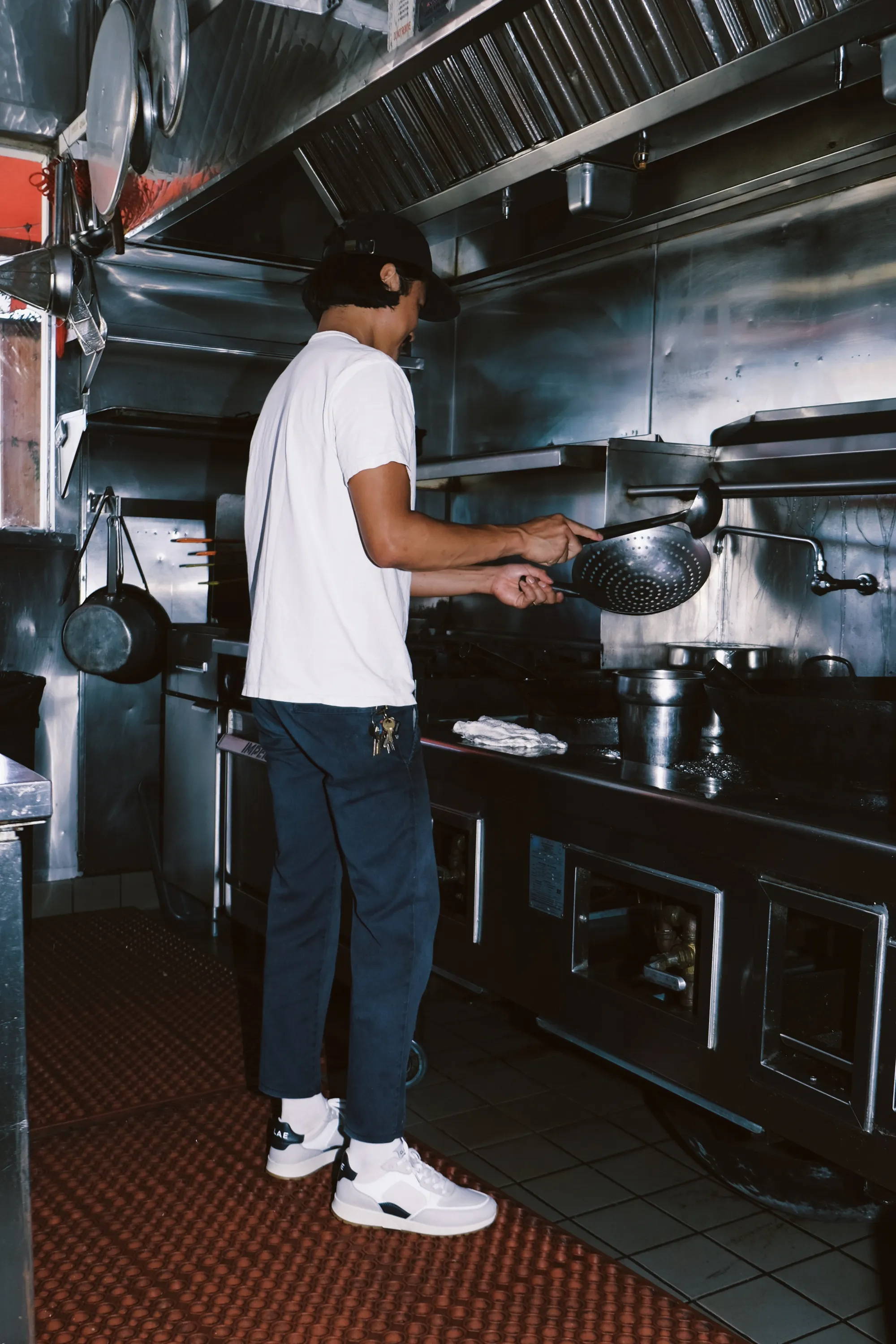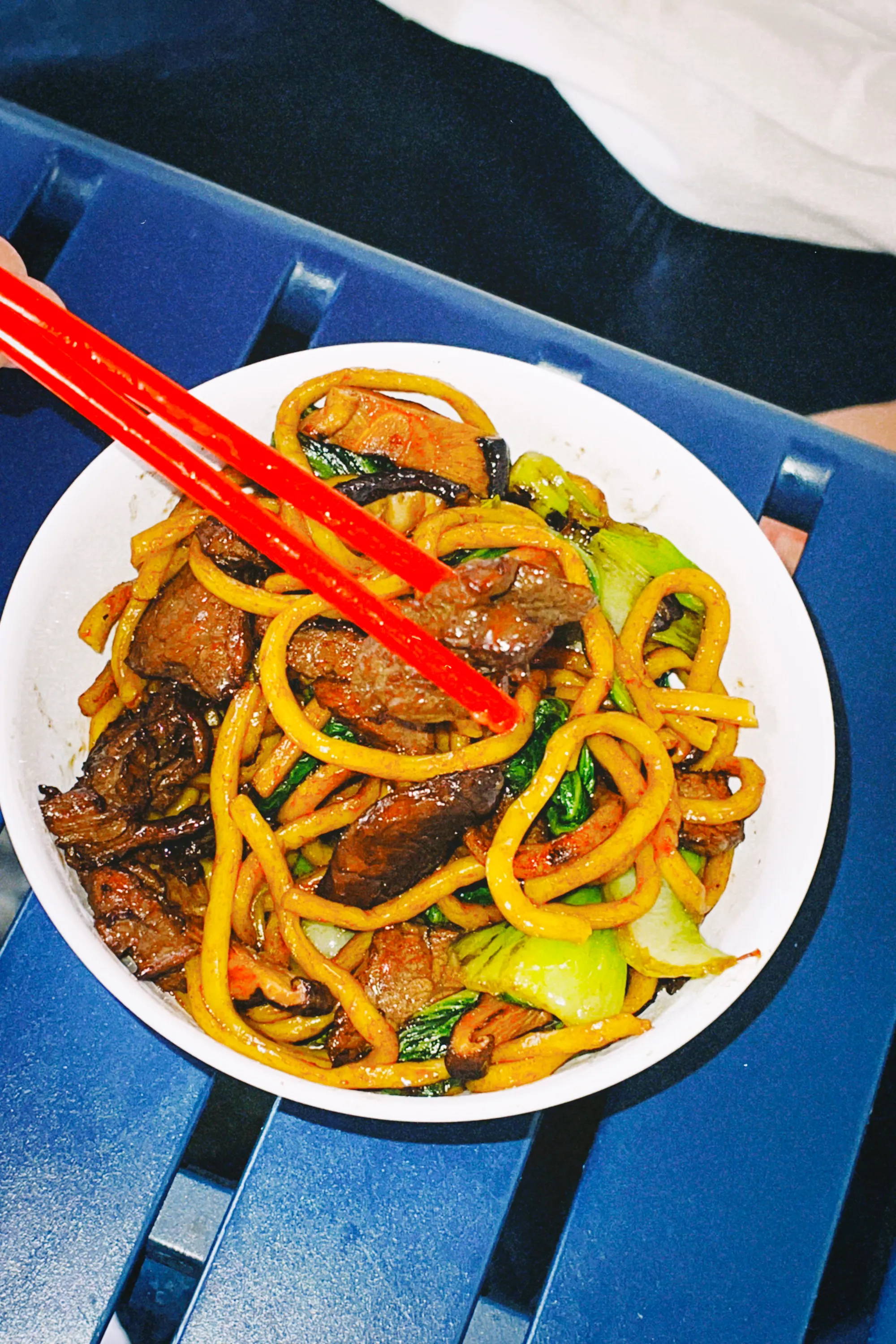 A few years ago you transitioned from pop-ups to your first brick-and-mortar location, how have you found life as a restaurateur in 2022.
The pop up business was born out of a desire to share something genuine and bring my friends together. My mom always loved hosting my friends growing up and the pop up just felt like an extension of those experiences. However, going from what was a side passion project of a pop up to a physical brick and mortar space was like learning how to ride a bike to learning how to fly a plane. It's next level. The amount of trials and tribulations I've gone through makes anything in life seem like a cakewalk. Restaurant owner life in a way has made me feel invincible because it makes all other problems seem much more manageable. I know I sound dramatic but it's the truth. One day I hope to write a book with all of the stories that have happened here.
Despite everything, it's been a life altering experience. I wouldn't take back any of it for the world. I chose to open a restaurant because I wanted to challenge myself. I asked for all of it! I'm so proud of everything we've built. It's always rewarding to see people enjoying themselves and enjoying my mom's food on a nightly basis. That's what it's all about. Giving people a good time and good experience.
We can't talk about Woon without asking you what your favorite dish is and what you would recommend a first timer at the restaurant.
The Beef Noodles are essentially the Woon staple. It's what gave me the idea to start a pop up. Around 2013, soup noodles seemed to be the star of the show. I never understood why menus never featured or focused on making dry stir fry noodles the star. They always seemed to be an afterthought…an item on the 2nd page of the menu. But my mom's Beef Noodles were always my favorite thing to eat and what I asked for when I came back from college. It was my sister and my comfort food. So, for the pop up business we only served the Beef Noodles and a vegan version of it, Veggie Noodles. We sometimes also offered my mom's infamous Pork Belly Baos which are also a must have on the menu. The Pork Belly goes through about a 5 step and 5 hour process. It's definitely a labor of love.
I see that you've got a series of playlists for Woon, what makes a good restaurant playlist and what are you listening to these days?
This is actually a really funny topic of conversation at the restaurant. My staff wants to kill me because of our playlists. We listen to them everyday over and over again. It's about 20 hours of music but it seems like the same song repeats itself everyday.
However, our customers always compliment our music choices. So it's a weird balance we have to play. I think what makes Woon so unique is that we don't have to be put in a box. Yes, we are a Chinese restaurant but it doesn't mean we have to play Chinese music. I grew up with a huge love for all types of music - garage rock, funk, electronic, hip hop, afro-rock, etc…so that's essentially what we play. Like I mentioned before, Woon is a reflection of my life at this moment...meaning it's modern, not traditional or what some people call "authentic Chinese". The food is authentic to my mom, who happens to have been born in Shanghai and grew up in Hong Kong. The music is authentic to my life..who happens to be Asian American and grew up around all types of music.
Last but not least, what Clae's are you rocking today?
I'm rocking the Edson and Joshua in Microchip. I love the subtle color tones…it really speaks to what I'm into at the moment. Lots of blues and slate colors. I also only wear one thing everyday. Essentially my uniform at Woon is a pair of boots, dickies, and a work shirt. So it's really nice to have a comfortable and good looking pair of sneakers on the one or two days I'm not working and these Clae's are exactly that.