For our latest edition of Perspectives, we've sat down with husband and wife creative duo, George Yoo and So Youn Lee. Graduates of the acclaimed Art Center College of Design, the couple's work certainly speaks for itself. An accomplished artist, So Youn's otherworldly works have been exhibited all over the world while George has taken years of experience in automotive design to Oakley, where he shapes the latest in high-performance eyewear and sporting goods.

With a life deeply rooted in the creative fields, we wanted to get George and So Youn's take on what it's like to be a creative couple, finding inspiration, creative processes, and the inescapable buzz around NFTs.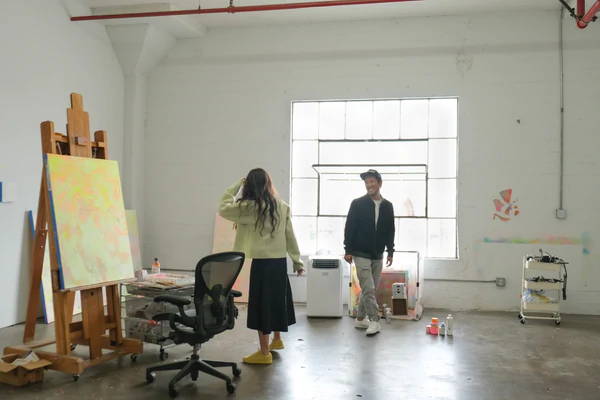 You're a creative couple. Is it ever collaborative in your household? Or are you both on different planets when it comes to creating?
We think it's certainly collaborative to some extent. Whether it's small conversations over dinner or just spending time together, we're always picking each other's brains. We definitely have different tastes and interests but we think that's what makes it dynamic and exciting because it's always coming from a different perspective.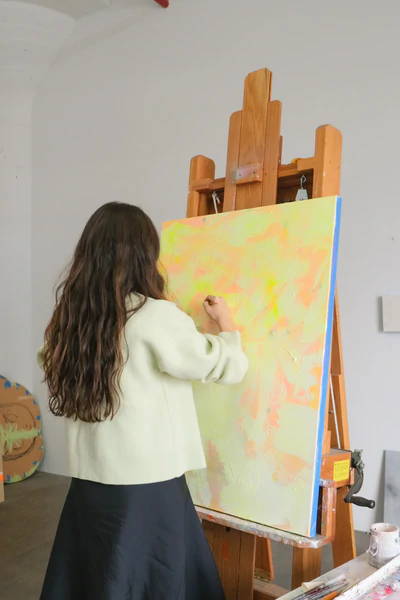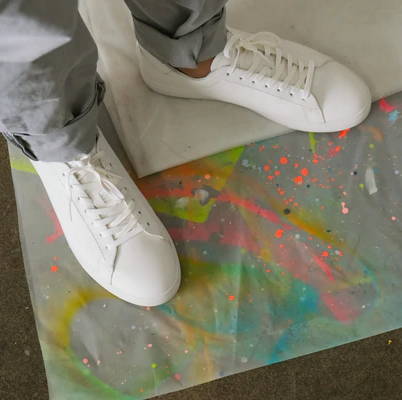 Where and when does inspiration strike for both of you? Is it a sudden eureka! moment, a specific activity you need to do, or are you just actively seeking out ideas throughout the day?
We definitely have different ways of finding that moment. So Youn turns to different mediums to keep exploring. It could also be as simple as reading a book, meditating, or having coffee. As for myself, I need to shut off the brain (ride a bike, go seek inspiration, talk with friends) to come back with a new approach or outlook.
We don't think there's a process to finding that "eureka" moment as it can come at any time. There are even days when that moment can simply come while taking a nap, going through iterations, or making mistakes to come to that point. Seeking inspiration and ideas is also never-ending no matter what type of work you do.
Let's talk about your creative processes. How's a workday start and end for you two?
George: I have a routine of waking up early in the morning to get some cycling and coffee in. Lately, this has been my way of getting ready for the day. I have a fairly long commute to work so this is also my window of time to either think about plans for the day or think about design ideas.
In the office, it depends on my calendar, which can either range from meetings all day or simply just being heads down at my desk with headphones designing the next future Oakley product. At the end of the day it sort of reverses itself where I also have time to unwind my brain on the drive back home and on another bike ride in the evening.
So Youn: Mine is less active. I start with coffee and take time to review my schedule for the day, gather inspiration for new projects, and make new idea sketches for new works. Once it's done, I go to my studio and resume my daily painting schedule. I also go to a ceramic studio 2-3 times a week. I come home around dinner time and afterward, I like to see what's going on with all the exciting new tools in the art world.
A great pair of sneakers has always been an integral part of any artist or designer's kit. So Youn, what drew you to the Bradley and George, why the Bradley and Hopkins?
George: I was attracted to the Bradley and Hopkins style because I like to dress simple. I usually wear pretty basic clothes and stick with blacks and whites. I loved the subtle hints of complementary colors in the warm sole and the details in the stitching yet the overall shoe itself is a large clean palette. On the flip side, the Hopkins upped things a notch with a versatile style that's both casual and formal.
So Youn: To put it simply, the Bradley for its color and classic simplicity. I work in a very colorful palette, ranging from pastels to vibrant neons. I liked the big blocks of color on the Bradley silhouette, translating my taste in color into the things I wear.
Both art and design are very time-intensive and I imagine your brains need to take a bit of a vacation every now and then. What's it take to shut off and clear your mind before your next big project?
Some days it's just staying home and being with our dog Choco but we do like to travel when we can, either to places where we can be exposed to new things that are related to our creative lifestyle or to a more remote place where we can shut off entirely and get rejuvenated to come back home with a clear mind.
So I've gotta ask you about NFTs. So Youn, you're doing more and more work in the space and George, you used to produce quite a bit of digital art. I think we're past the point of it being a fad, how are you feeling about it in its current state?
So Youn: I'm constantly creating both digital and physical works. This has also opened doors to new ideas, people, processes, and mediums all within the digital space. The more important part is how to connect the core essence & values of my work from a physical product to a digital product and vice versa. I've always wanted to expand my art world so NFTs are a good channel for that. I'm super excited to see how my art adapts to a new environment.
George: Having work made in digital mediums always had me questioning as to whether it had any value or not because it was never really a tangible thing unless it was on paper or transformed into a physical product. I think it's amazing to see that something digital can now break that perception. It can start with a conceptual vision and stay true to its original intent. That really excites me because it just comes to show that anything is possible within the digital space.
You are a quick walk or drive from some of the best spots in Downtown LA. What are your favorite spots in LA?
There are just so many spots that contribute to this melting pot of culture in LA, but some of them are…
TheROW DTLA, City Market South, Hama Sushi, LABoulders, Random LA Taco Stands… and all the various Art Galleries nearby